Automatic Sludge Blanket Level Detector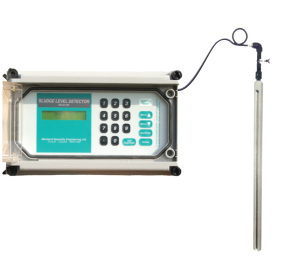 The Markland Advantage:
Optimize energy usage
Automate your desludge pumping. Rather than pumping at set times, pump when you need to, using this reliable sludge blanket level meter.
Optimize water removal to reduce costly additional processing (belt presses, digesters, centrifuges, etc.)
Maximize sludge blanket density automatically. Avoid pumping large volumes of thin sludge; avoid pulling a core hole and pumping water needlessly.
Maintain preferred sludge depth
Automate sludge blanket control  with this interface level analyzer. Avoid overflows and process problems.
Reduce wear and tear on pumps
Pump only when necessary.
Maximize operator's time and energy
Installs quickly and easily – no need to calibrate. Simplify operation with a durable level measurement instrument.
Reduce the cost of inaccurate chemical dosing
Optimize flocculent precipitate (floc) process adjustment and coagulant dosage control.
Get answers when you have questions
Technical assistance is factory-direct from the designers and manufacturers of this sludge blanket level control equipment.
Used wherever solids are separated from liquids:
Municipal water and wastewater treatment plants
Primary and secondary clarifiers (gravity settlers)
Inclined plate clarifiers / separators (Lamellars ®)
Dissolved air flotation (DAF) tanks (floating bed)
Decanting tanks / Decanting control
Industrial process + Wastewater clarification
Sequential batch reactor (SBR)
Batch processes
Settlement tanks
LED beam automatically adjusts its intensity to detect settled sludge blanket and supernatant interface levels in thick or thin sludges, or in light flocs
sludge level interface detection is not distorted by the curved walls of lamellar® tanks
advanced self-diagnostics
ultra high intensity infrared beams
automatic beam intensity control
4 – 20 ma output linear with sludge interface level depth
high & low sludge blanket depth set-point relays
A vertical Probe, submerged in the settlement tank, contains 64 infrared high intensity LEDs stacked vertically, which shine horizontally across a probe gap to 64 phototransistor detectors. This gap contains either liquid or sludge. The 64 pairs are sequentially scanned to locate the sludge bed. Beam power intensity is automatically adjusted to accommodate different sludge and overlying liquid concentrations. At its highest power level, the beam will shoot through your hand, you could count the bones, but there is not hazard since the beam is only on for a few microseconds. This high intensity beam easily penetrates fouling on the probe's windows, and as long as the solids in the probe gap are high relative to the solids in the scum layers on the windows, the meter continues to read correctly. Eventually, the probe has to be removed and given a wipe with a soft cloth.
Process Control
Automatic desludging yields thicker sludge than timers or manual methods, and reduces sludge disposal or processing cost. A desludge pump can be operated automatically from the Low Set-Point Relay along with a Pump Run Interval Timer, and the High Set-Point used as an alarm for excessive sludge depth. Alternatively, the desludge pump can be turned ON at the High Set-Point and OFF at the Low Set-Point, or the 4-20 ma output can be used for continuous variable speed drawoff. The 4-20 ma output can link the sludge blanket level meter to your computer for centralized process control.
Pause Switch Uses
An externally located switch, with a pair of Normally Open contacts, can be connected to act as a "Pause Switch". When these contacts close, the Markland transmitter freezes its last reading, and the LCD displays "METER DISABLED HOLDING LAST READING". This feature is used for a batch mix process to disable the meter during mixing. It is also used to lock out the meter, when the probe is tipped up by a traveling scraper. Both of these uses are illustrated in the accompanying diagrams. When the pause switch reopens its contacts, the sludge blanket level meter waits 30 seconds for the sludge to settle down before resuming normal operation.
Materials
Probe: PVC
Mast: PVC Pipe
Clamp: Stainless Steel & Polypropylene
Cable: Vinyl Jacketed
Enclosure: Fiberglass Body & Clear Plastic Cover
Dimensions
Probe:
Overall Length: 1330 mm (52¼ in.)
Active Element: Length 1219 mm (48 in.)
Cross Section: 64 mm (2½ in.) x 38 mm (1½ in.)
Gap: 25 mm (1 in.)
Mast: 3.5 meters (12ft.), 1 in. Sch. 80, shipped in 3 pieces with fittings
Enclosure:
Width 343 mm (13½ in.) · Height 229 mm (9 in.) · Depth 200 mm (7 7/8 in.)
Cable Length
15 meters (50 ft.) pigtail supplied (measured from top of Probe). Maximum cable length 150 meters (500 ft).
Order extra cable separately if pigtail length not sufficient
Element Spacing
64 pairs infrared LED/Phototransistor, spaced vertically on 19 mm (¾ in.) centers. Dual Model has 128 pairs
Accuracy
± 2cm (± 1 in.)
Bottom Offset
Adjustable, 0-700 cm or in. (NOTE: For '-DAF' & '-UD' types this is Top Offset)
Depth Units
Selectable, inches or centimeters
Temperature
Maximum 50°C (120°F)
Power
110/220 VAC, 220/240 VAC, 50/60 Hz (advise with order). 10 watts
Outputs
· Liquid Crystal display (LCD) 2×20 Digit Alphanumeric
· 4 – 20 ma output signal, linear with sludge interface level
· Two DPDT, 5 Amp, Relays, independently adjustable set-points
· RS – 232 Serial Port
· RS – 485 Serial Port (Optional)
Models
602
Reads sludge depth up from tank bottom
602 – UD
Reads sludge blanket location down from liquid surface
602 – DAF
Reads sludge/liquid interface in Dissolved Air Flotation thickeners
602 – LP
Special model for Drinking Water Plant upflow clarifiers where overlying water is very clear & sludge is thin (consult factory for further details)
602 DUAL &
602-DUAL-UD
Uses 2 probes, one mounted 48 in. (122 cm) above the other to give 96 in. (244 cm) continous span
Approvals

CSA Approved and CE Conformance
The graphics below demonstrate the Markland difference. With Markland's Fixed Sludge Level Control Equipment, you only pump when necessary, resulting in no overflows, no unnecessary pumping and running the risk of pumping water with sludge.
Light Desludging
LIGHT sludge loading can allow a timer to pull a core hole and pump water out the bottom.  The Automatic Sludge Level Detector does not turn on the desludge pump until it is required, and the sludge level is maintained within the high and low set-points.
Timer Desludging
Versus
Blanket Level Desludging
Heavy Desludging
HEAVY sludge loading can overwhelm a timer-controlled desludge pump, allowing sludge to slip over the top, while the Automatic Sludge Level Detector maintains the sludge level within the high and low set-points.
Timer Desludging
Versus
Blanket Level Desludging
To receive a quote for a Markland Automatic Sludge Blanket Level Detector, complete the form below.